The Hockey Hall of Fame updated the Stanley Cup Journal
Although the Ducks statistically opened their regular season with a 'home;' game in London, England, the first opportunity to play in front of their home fans at the Honda Center took place last night (October 10) against the Boston Bruins.
At 6:45PM, with every fan sitting on the edge of their seat, the ceremony began with video highlights of the 2006-07 Stanley Cup championship season. Some clever animation saw Corey Perry and Ryan Getzlaf, holding the Stanley Cup, spin into the scoreboard. Unbeknownst to the fans, the actual Cup was hidden in the scoreboard and was lowered to the ice surface on a silver tray to a roar unheard in Southern California in decades. Once near ice level, the Cup was placed on a table beside the Conn Smythe Trophy and the Campbell Cup, both won by Anaheim this past spring.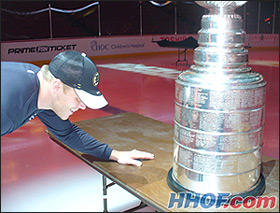 Shawn Thornton, A champion with the Ducks last spring but now a Boston Bruin, takes his first look at his name engraved on the Stanley Cup.
(Phil Pritchard/HHOF)
Each team executive, coach, trainer and player was then introduced, including Scott Niedermayer and Teemu Selanne, wearing suits. Although each person was afforded a tremendous ovation, the loudest were reserved for GM Brian Burke, coach Randy Carlyle and injured goaltender Jean-Sebastien Giguere. When the former captain and Selanne were introduced, they were welcomed by chants of, 'One more year! One more year!'
When the introductions concluded, there was a very special presentation. For the first time ever, the Hockey Hall of Fame was presented with its own Stanley Cup ring. Although players' rings have graced the Hall of Fame through the years, never has a ring been created specifically for hockey's Hall. It was a humbling yet exciting moment for the Hockey Hall of Fame.
Fittingly, Shawn Thornton, a champion with the Ducks last spring but now a member of the visiting Boston Bruins, took the opportunity while attention was elsewhere to sneak over to the Stanley Cup and see, for the first time, his name engraved there. His smile almost distracted the proceedings!
Read the rest here -
Link